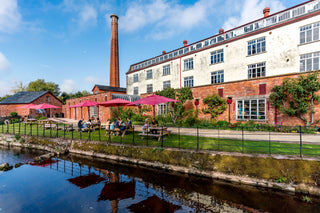 Exquisite Devon Textiles & Yarn
Inspired by our fantastic Devon countryside. All our yarns are spun from pure new wool on heritage machinery and can be bought from our online shop below.
Exquisite Yarn produced on heritage machinery
The Mill was originally owned by world-renowned textile producers Fox Brothers who took fleece from all over the world and transformed it into high quality yarn, cloth and textiles. Today the rich heritage lives on as one of the finest working wool museums where visitors are not just able to relive the sights and sounds of the industrial revolution but also see craftspeople making traditional textiles, beautiful knitting yarn and hand woven rugs for sale on our website here.
"probably one of the best-preserved textile mill complexes in the country."
Historic England
All profits go to the Coldharbour Mill Trust to secure the future of the Mill
Set in the heart of Devon, Coldharbour Mill has been producing high quality yarn & textiles since 1797.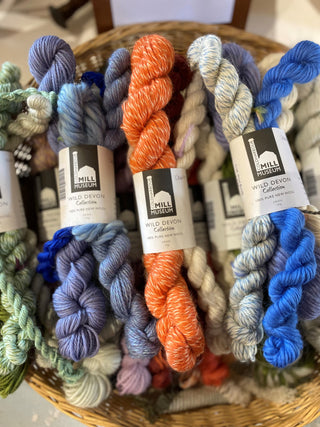 A beautiful mix of Aran & Double Knit
Craft Bundles by Coldharbour Mill
With a wide range of colours, what will you make?
endless possibilities..
From shawls to gloves to warm jumpers, what's your next project? We'd love to see it! Tag us @coldharbourmill
Take home a piece of our heritage
Our wooden bobbins are available to purchase below! Perfect addition to the home!
Steam Days at the Mill
Looking for our next Steam Day at the Mill?
Steam & Scream!

October 29th, 2023

Coldharbour Mill

Explore our working factory floor and our 110 year old Lancashire boiler which will be lit throughout the day!

Discover some ghostly tales from the Mills past